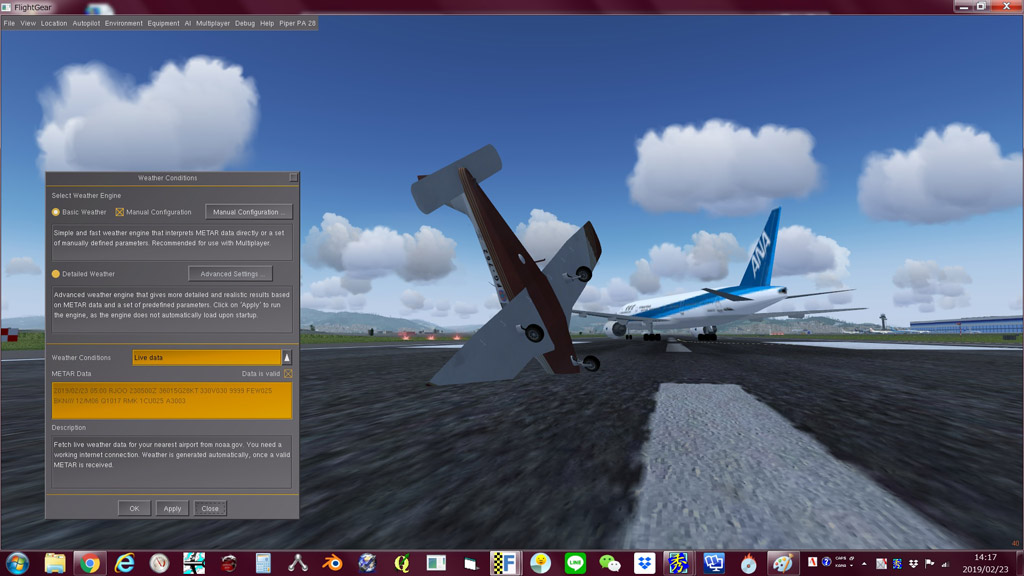 春の嵐METAR回復

hide


2019-2-23 15:37

友人に知らせる

1577

3

0.00 (投票数 0)

投票する
toshiさんにfgfs.exeの編集方法をご教示頂き、お陰様でMETARの受信不能トラブルから回復しました。きょうの伊丹空港は春の嵐。軽いパイパーPA-28は吹き飛ばされてしまいました。
投稿された内容の著作権はコメントの投稿者に帰属します。
投稿者
スレッド
revulac

投稿日時:

2019-11-25 14:00

更新日時:

2019-11-25 14:00

新メンバー

Re[2]: 春の嵐METAR回復

METAR is used to tell the actual meteorological conditions on a station, airport or area indicating day/time wind, clouds, precipitations, altimeter pressure and temperature, it has a duration of 60 minutes and it is updated every hour. You may check out this website

Best Indoor grills reviews

for more updates.....

nicwatch

投稿日時:

2019-10-25 18:25

更新日時:

2019-10-25 18:25

長老

Re: 春の嵐METAR回復

First and foremost, let's get one thing straight:

Bandage Dresses

"There's an incorrect assumption about Herve that it's only for evening,"

Herve Leger Dresses

Lubov told me up on the 18th floor of her

Oktoberfest Costumes

Times Square showroom and headquarters. "It can be worn anytime! People also assume that it should fit really tight, but personally I wear it one size bigger because I like the comfort of it while still getting the silhouette."

Nun Costumes

These are the dresses that are coming into our stores and online now, and these are the dresses that are going to show up come Saturday, because as we pointed out in our runway report last season, an Herve Leger show is full of Herve Leger dresses.

nicwatch

投稿日時:

2019-10-13 1:11

更新日時:

2019-10-13 1:11

長老

Re: 春の嵐METAR回復

The Timezoner movement with

Replica Watches

its signature ceramic worldtime bezel made its debut in 2016 with ref. IW3905 – the brand's

Replica Rolex

first in-house

manufactured flyback

Tag Heuer Replica

chronograph with a world time complication. This new Spitfire design cleans up the dial a great deal by omitting the chronograph and red-tipped 24-hour hand in the center of the dial but adds in an altimeter-style

Replica Watches

24-hour aperture that we haven't seen on an IWC Pilot since the UTC TCZ an excellent, but lesser-known reference from 1998.